Our Whole House Loves Anything Pomegranate or Blueberry So This Dish Is a Win-Win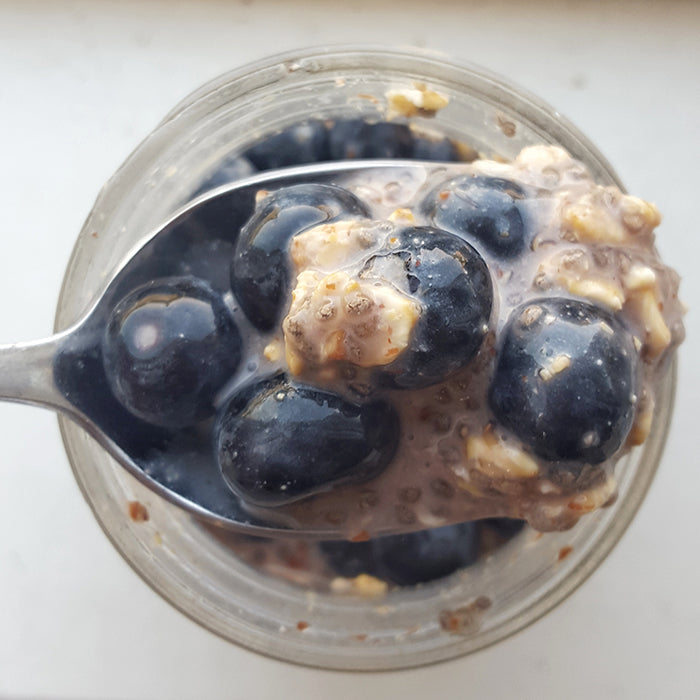 I'll be the first to admit it. As a kid, oatmeal was not exactly on my request list for breakfast. Ever. If my mom made it, I ate it. That was it. Now as an adult and mom, it's fun to get creative and find ways to make healthy food taste good. Oats are amazing for our bodies and a great filler when headed out for a big day. I now have 3 different ways my kids enjoy -that's right enjoy- oatmeal.
Coconut Sugar & Raisins
A classic way to eat oatmeal is warm with brown sugar, butter and raisins. We change it up a bit by sprinkling coconut sugar and raising over our oats. We skip the butter entirely. Also, we cook them with water, not milk. This is because dairy broke up with me a couple years ago, and also because it's not needed with a dish like this. When eating oatmeal, you won't be leaving the table hungry wishing you had added a fatty ingredient to it. Trust me.
Apple Pie Overnight Oats
We add this to our meal prep at least once a month. I simply line up 4-6 jars, add the ingredients and shake! The jars go in the fridge overnight and are ready to go in the morning. Our family likes them cold or warm; pretty much whatever we have time for. This one's great if you need to eat on the go like my husband does. He grabs it and runs out the door anywhere from 5-6am with a couple hard-boiled eggs.
Perfect combo! Click here for the full recipe.
Pomegranate Blueberry Overnight Oats
Now for the newest creation in the Metzger house. This recipe features Skylake Ranch Pomegranate syrup. Believe it or not, pomegranate syrup has less sugar per serving than maple syrup does. Our whole house loves anything pomegranate or blueberry so this dish is a win-win. I added flaxseed and chia seed to really up the nutrition game for this meal. I'm a huge believer that breakfast really is the most
important meal of the day, so start strong!
Pomegranate Blueberry Overnight Oats
Yield: 1 serving
Ingredients
• 1/2 cup old fashioned oats
• 1 T flaxseed meal
• 3/4 cup almond milk
• 2 T Pomegranate syrup
• 2 T pomegranate seeds
• 1/4 cup fresh blueberries
• 1 T chia seeds

Pomegranate Blueberry Overnight Oats
Instructions
1. In a 12 oz mason jar, combine the oats, flaxseed, chia and blueberries.
2. Pour in the almond milk and pomegranate syrup.
3. Reserve the pomegranate seeds until the oats have set.
4. Leave sealed in the fridge overnight, or for 8-12 hours.
5. Serve hot or cold, and top with the pomegranate seeds plus a few extra blueberries.
6. Enjoy!
---
---
26 Responses
Leave a comment