Do you have kids? If yes, then you understand the value of a quiet house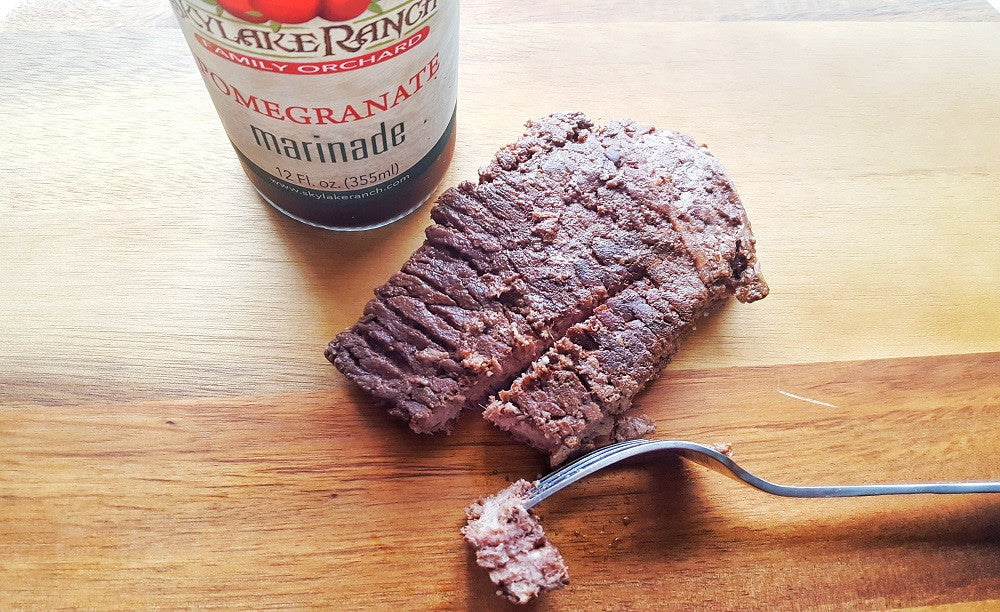 I am geeking out right now. Not only do I get to share the easiest marinated steak recipe with you, but I am doing so in a quiet house. A peaceful, quiet house.

Do you have kids? If yes, then you understand the value of a quiet house. Today's quiet moment even comes with a perfect sunrise. We've had so many days of rain that this is a sight to see. The sun is showing off with hues of pink and yellows through the leftover clouds from the last storm.

I need moments like this as much as I need an easy recipe on busy nights. I want more than fast though, I want healthy. A recipe that will fill my kids with nutrients and leave them satisfied. It's always a plus when the recipe is adored by the grownups too.
Enter marinated steak. I simply defrost a few steaks, toss them into a large ziplock bag, and pour in my favorite marinade sauce. I'm using Skylake Ranch Pomegranate Marinade. I love the flavor of pomegranate and I love real sauces with real ingredients!
I let the steaks marinate in the fridge for 2 hours to as long as overnight. When I'm ready, I heat a big skillet with olive oil (or prep a grill if the weather's in your favor). I lightly salt and pepper the steaks and cook 5-7 minutes on each side. The time frame will vary depending on the kind of heat you're using.

Voila! A beautiful flavorful steak.
Tip: If you don't want to heat up another pan, simply toss some green beans (or other veggie) in the same pan you just used for the steak. I turned the heat down to low and added about 1/4 cup more marinade to them. So good!
Marinated Steak Recipe:
2-3 steaks (I prefer top rounds or T-bones)
1 8 oz. jar of Skylake Ranch pomegranate marinade
salt and pepper to taste
2-3 large ziplock bags

Directions:
Place each steak in its own ziplock bag with 1/5 cup sauce in each bag. If you want, you could use a twogallon bag and fit multiple steaks inside. Place the bags into the fridge.
Marinade for a minimum of two hours. You can let them soak up the sauce for up to 24 hours.
When ready, heat either a grill or stove top and frying pan with olive oil.
Remove the steaks from the bags. Reserve any marinade in the bags to add to the pan. Lightly salt and pepper the steaks on each side.
Cook for 5-7 minutes on each side. Check the middle using a meat thermometer or cutting into it. My family likes their steaks done all different ways. I've learned you have to watch very closely during those 5-7 minutes. They can go from medium rare to well done in seconds!

Prep: 2 hours 5 minutes
Cook Time: 14 minutes
Total Time: 2 hours 19 minutes
---
---
9 Responses
Leave a comment